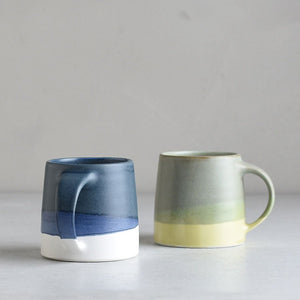 Traces of handwork on the potter's wheel and two colours of layered glaze bring about unique expressions on each mug. The supple shape sits comfortably inside your hands. The wide arched handle that connects smoothly to the cup makes it a pleasure to hold. SLOW COFFEE STYLE is inspired by the passion of craftsmen.
These unique products are created by seeking only the best materials, thoughtful craft, and carefully finessed for your coffee drinking experience.
SIZE φ75 x H80 x W110 mm / 320 ml Porcelain
Microwave and dishwasher safe. Do not use abrasive cleaners or steel wool. Product size and shape varies in each item due to artisan manufacturing process.