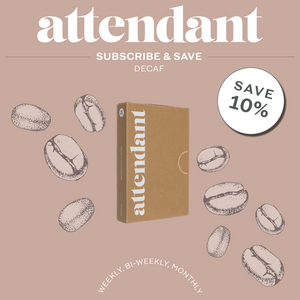 Decaf should never feel like a concession. In fact, we roast our own as a complex coffee in its own right, especially given that its disciples drink it solely for its flavour.
Attendant's decaffeinated coffee is produced with the mind-boggling and chemical-free Swiss Water or Mountain Water process. Only water, temperature, and time are used to gently remove caffeine, preserving the coffee's original taste.
You will find that our Decaf never has to compromise flavour—our coffee team describes it as "creamy and versatile", with decadent "chocolate" undertones. As for whether or not you still need an actual night light? We'll let you decide.