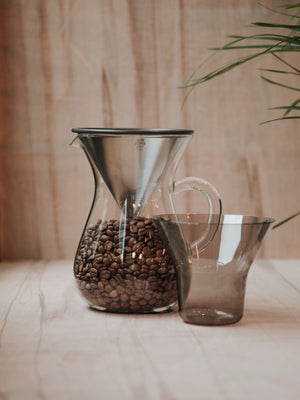 SLOW COFFEE STYLE (SCS) was born to bring you the joy of a slow, relaxing passage of time with pour over coffee. Organic forms, calm colors, and warm textures are designed to help you unwind. The items integrate well into spaces with a relaxing atmosphere. The collection gives depth to your daily ritual of brewing coffee.
Carafe set comes with a filter to let you brew aromatic coffee. The holder can be used to measure the amount of coffee beans as well as to place the filter after use.
Recommend using with 4 cup SCS cotton filter papers for a cleaner brew. 
The heat resistant glass contains 600ml, withstanding a maximum heat of 120℃ 
Do not use in a microwave. When using a dishwasher, avoid force and weight applied to the filter. Do not place near open flames. Wash with care. Do not use abrasive cleansers or steel wool. To prevent rust, immediately wash and dry well after use. Store it away from other metals.
Please note this does not come with filter papers. 
Size: φ125 x H180 x W150 mm / 1.1 Ll